The publication date for Vitae is fast approaching. No, I'm not quite ready to disclose when that'll be. Trust me, though, you'll know as soon as I've finalized the date. What I am willing to share with you right now, though, is the final cover.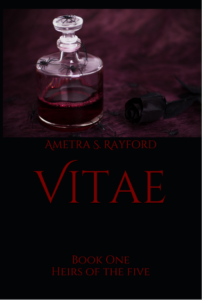 I've gone back and forth quite a bit with the design. Admittedly, most of the changes would likely only be noticed by me or by those who pay attention to minute details. But, it's important to me that the cover gives a visual representation not only of what takes place inside, but also adheres to the primary theme of the novel itself.
I think that in my next post I'll talk more about what it's like to basically be a one-stop-shop. There are more of us than you realize – those of us who write, edit, and format our own work…then we handle our own marketing and promotion…design our own covers and make decisions on layouts and typesetting. A good number of us – myself, included – do this while working jobs outside of the home. Yes, I do think I'll add that to the list of posts I have in store for you lovely people.
Until then – have you watched the trailer for Vitae yet?