As I mentioned yesterday, I've been encouraged by my friends to share the occasional recipe here on the blog. Some of these will be original concoctions of my own and others will be based on a recipe I discovered elsewhere and needed to try and then share.  This will be a biweekly feature to start, and I may change the frequency depending on little things like popularity and demand. But, I cook at home often – at least 4-5 times a week – so hopefully I can keep up.
Disclaimer: I am neither a professional chef nor a professional photographer.  You are definitely in the wrong place if you're looking for either. I'm also not being paid to advertise any particular brand or product – I use things that I like and can afford.  Now, shall we proceed?
We begin with an amazing recipe that I stumbled across about a month ago. We decided to have a potluck at work, and I wanted to bring something that was easy to make and would be delicious. There are quite a few fans of chocolate on my team, so the obvious choices included a chocolate cake or perhaps brownies. But, I always like to do things a bit differently and didn't want to utilize the standard recipe for either.  It was a stroke of luck that I stumbled upon a recipe for Chocolate Covered Strawberry Brownies on the Delish website.
The recipe itself was quite easy, and prep was a breeze. Using a box of Ghirardelli Triple Fudge brownie mix, I created the base. Yes, I do realize that choosing Triple Fudge might produce a richer brownie, but that was the point. I wanted something decadent, rich, and perfect counter for the strawberries to cut through.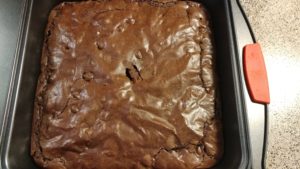 As the brownies were cooling, I started prep on the strawberries…and I have to say that they were so gorgeous that it's a wonder any of them made it into the recipe at ALL!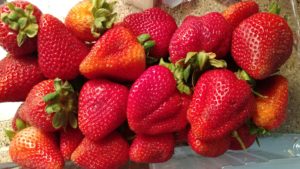 I think that for each one that I sliced, I ate two…and this is why I bought two pounds of berries. Had I just bought a single pound, there might have been all of three strawberries that actually made it onto the brownies.  Of course, once they were sliced and the brownies sufficiently cooled, it was time to introduce the two!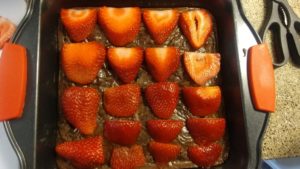 Almost looks as though I played a round or Berry Tetris, but it still turned out quite well! I wanted to keep the thickness and height of the strawberries relatively consistent for what was about to come next.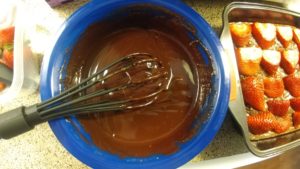 I hadn't made chocolate ganache before, and I'm not sure that the recipe used is one that would be sanctioned by Gordon Ramsay, but I must admit that it was much easier than I thought it might be. It also took quite a bit of willpower to refrain from taking the bowl of chocolate goodness, as well as what remained of the strawberries, and going off to have a seat somewhere. But, what are chocolate covered strawberry brownies without the chocolate topping?  After pouring the ganache atop the chocolate-berry base, I smoothed everything out and did a happy dance at the result.
The temptation was strong, but I actually refrained from "checking on" the brownies as they set in the fridge. The recipe said that they should sit for 15 minutes, but I left them alone for an hour. When I finally cut into them, I was elated…and I also finally succumbed to the temptation to the point that I didn't even wait to take the picture before I bit into one of the brownies. Oops!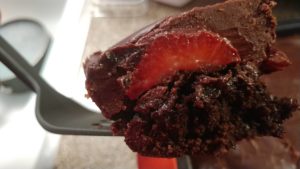 The brownies were a huge hit at the potluck, and I've even made them again since. A word of caution, though: They are very, very rich. You shouldn't expect to eat one of these in the larger size that's standard for regular brownies. I used an 8 x 8 pan to bake them, and I cut the batch into sixteen pieces. One might assume that so many brownies from such a small pan means you won't get the full benefit of brownie goodness. Trust me when I say that it will be more than enough. Even an extreme lover of chocolate such as myself had to take moderately-sized bites, even with the sweet-tart strawberries cutting through the richness of the chocolate.
Hopefully, you've enjoyed the inaugural edition of, "Taste This!" One of my friends is actually on her way over to stake a claim on at least three of the brownies from the batch I made yesterday, and I'll take some to work tomorrow as well.  Spreading the love, one brownie at a time!