I've decided to post another installment of Taste This! so that I can share one of my favorite recipes with you. This one, just like the last installment, is a dessert recipe – one of my favorite to make. It's quick, easy, and delicious. Mind you, I won't always post desserts. There will definitely be some savory dishes showcased. Admittedly, though, I do have a rather active sweet tooth.
Bread pudding is a dessert typically made with leftover, or stale, bread. It provides an economical means of saving both the bread and the money used to buy it. Bread very rarely has a chance to go bad in my house, though, so I often end up using fresh bread to make this dessert. I also find, however, that croissants can be easily substituted in this recipe for handy single-serving portions. I will admit to having the occasional croissant go stale – if only because the lack of preservatives in them can make it difficult to eat them in enough time.
Anyway, I digress.
My grandmother often made bread pudding when I was a child. Though I don't dare attempt to emulate the greatness of her cooking (and she kept her recipes in her head), I do admit that my version has gotten lots of compliments. As I share my recipe with you in this Taste This! extravaganza, I will also make sure to issue the same advice as I did in the previous offering: Use what you like. If you are not a fan of white bread, don't use it. If you'd prefer to refrain from using actual rum for the butter rum sauce that accompanies this dessert, I will offer you an alternative recipe using rum extract. If you'd prefer to have more of a tropical flavor or if you'd like the lightness of fruits, you have the option of using coconut rum and the fruit of your choice.
Shall we?
For this Taste This! adventure, I used a combination of both white bread and cinnamon swirl raisin bread. I enjoy the flavor that raisins bring, but don't necessarily want to fill the pudding with them. An easy fix to this – for me – is to just use the bread. Having cinnamon both in the bread as well as in the custard itself also brings a richness that I find hard to get just from using all white bread.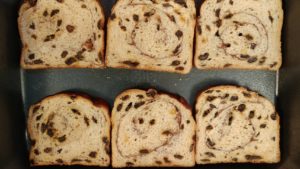 Using a 9×13 nonstick pan that has also been lightly sprayed with butter-flavored cooking spray, I place the cinnamon swirl raisin bread as the bottom layer. Just so you know, the typical 9×13 pan will give you enough room for three layers of bread and you can layer them as you wish. Because I love the richness of the cinnamon bread, I prefer to have that as the top and bottom layers, with a layer of white bread in-between.
In the last installment of Taste This! I was playing Tetris with the slices of strawberry atop the brownie. Here I am again – this time with bread… You may have also noticed the bit of yellow on the bread here. That is a drizzle of unsalted butter, placed between each of the layers.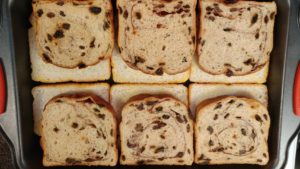 And now the top layer. And, yes, there are gaps because the slices of cinnamon swirl raisin bread were obviously smaller. But, that works out well. Why? Because it gives you room for the delicious custard! Into a large bowl, mix the following:
8 eggs
4 cups of milk
1 and 1/2 cup of white sugar
2 teaspoons of ground cinnamon
2 teaspoons of vanilla extract
Note: I have not tried to make this with egg substitutes or sugar substitutes. With regard to the milk, I usually make this with 2%. Whole milk makes a delicious bread pudding that's extremely rich, but since I drink 2% in my daily life, I tend to use what's on hand. I have also tried this – only once – using imitation vanilla extract. You might have enjoyed the result, but I did not. The vanilla didn't have the same smoothness as it does when pure extract is used.
Mix all of that goodness together! Mind you, the milk should be done in stages – one cup at a time. This allows more time for the sugar to become integrated. The cinnamon, though, has been stubborn each and every time I've made this custard. If anyone out there knows of a better way to get cinnamon to cooperate, please feel free to let me know. I'll even include a contact form at the end of this post. Try as I might, I always get tiny clumps of cinnamon that refuse to dissipate – and that's okay.  Once everything (mostly) is incorporated, slowly pour it over the bread.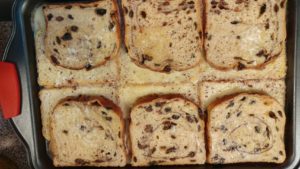 As the custard begins to soak into the bread a bit, gently press the slices down into the mixture. You'll also want to be sure to allow the custard to come up over the tops of the slices to soak them so that they don't dry out during the baking process. Once the slices have sufficiently soaked, slide the pan into a preheated 350-degree oven for, depending upon the intensity of said oven, 30-45 minutes.
While the lovely bread pudding is baking, you still have work to do! There are some who, for either the sake of calories or personal taste, would leave this dessert as it is and not venture further. I, on the other hand, take it that extra step with the addition of Butter Rum Sauce.
In a saucepan atop the stove, combine the following:
1/4 cup of unsalted butter (or margarine, if you prefer)
3/4 cup of firmly packed brown sugar
1/2 cup of heavy whipping cream
2 tablespoons of rum or 1 teaspoon of rum extract
Do you see the difference in amounts between real rum and rum extract? The extract is strong, and you don't want to use it with the same liberal hand as you might regular rum, or you'll end up with something inedible. Another word: if you are using actual rum, there is a difference in flavor between light or dark rum. Dark rum gives a much richer flavor and you don't need to use as much of it.
Once these delicious bits are well mixed, you might have something that looks like this: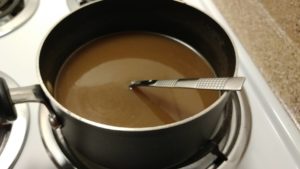 Allow it a moment to remain warm on a low setting. It may seem a little "loose" at first, but will gradually thicken as it cools. In the meantime, the bread pudding should be about ready to come out of the oven!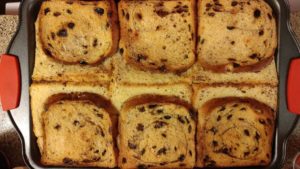 As tempting as it might be to cut into this beauty right away – don't! The custard needs time to set up. If you cut into it now, chances are that it'll be wet and may even collapse. So, be patient!  Once it's set, though…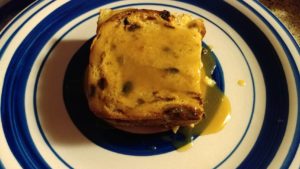 Some might even dare to place a small scoop of ice cream on top. Are you that daring? Drop me a note in the comments form below, especially if you have anything to offer with regard to The Cinnamon Dilemma. There will also be a non-food-related blog post coming soon so stick around for that.
What are you waiting for? Go ahead, and Taste This!