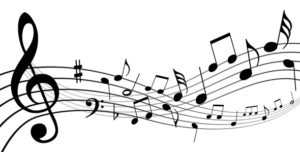 Some find it interesting to learn that I have a soundtrack for everything I've ever written.  Music lures my creative mind to depths that allow me to come up with storylines and bits of dialogue that, once the music is off and I'm reading the results, still surprise me to this day.
Music also helps me to get through scenes that I find emotionally difficult.  I find it easier to write the scene away with a song, rather than endure the effects of it in silence.  Music helps me to put pain to paper and sometimes exhausts me with the outcome.  But, I love it and wouldn't change a thing.  I love to tell a story; whether it's for a three-minute song, a three-hour ride, or a three-day binge.
Who are some musical artists you enjoy – either when indulging in creative endeavors, or otherwise?  When I write, it's common to have Enya, Helen Jane Long, E.S. Posthumus, Röyksopp, and – most recently – Ólafur Arnalds playing in the background, among others.  Certain types of music fit when paired with matching themes.  Some of the more intense scenes I've been working on lately have called for brooding and intense music.
It can be a bit much sometimes, though.  There were moments where I actually had to literally get up and walk away from writing a particular scene because the music was taking me to a place I didn't really want to go at the time.  I'd had a particularly bad week and wanted to indulge in a bit of avoidance, but things didn't exactly go the way I hoped.  But, what came out of it was easily one of the best scenes I've written to date.
Speaking of Ólafur Arnalds – yes, I did derail the train of thought the previous paragraph had begun to traverse, thank you for noticing – I became a fan of his compositions while watching the series, "Broadchurch" starring David Tennant, and I enjoyed it immensely (both the music and the series).  Have a look…and a listen.  I hope that you enjoy them as well.
-me.